A.G.E Interrupter Advanced , what is new?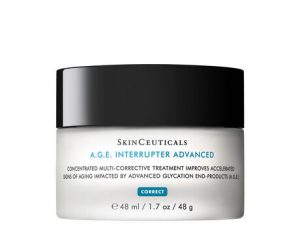 2023 brings us the new formula for the Age Interrupter and is renamed the  Skinceuticals Age Interrupter Advanced. Helping to target visible ageing, the new formula includes 20% more Proxylane.
Going beyond traditional supportive skincare, the improved formula delivers long lasting moisture to skin, whilst targeting collagen glycation and optimised collagen matrix integrity, smooths visible wrinkles, helps restore firmness and enhances skins radiance.
Sugar in our body is called glucose. Glucose is a necessary fuel for our cells to produce energy, regenerate and stay alive but unfortunately it can also be toxic and especially damaging to the skin cells because it attaches to the proteins of collagen. Collagen is the most abundant type of protein in the body. When glucose attaches to collagen it causes it to 'cross-link' making it stiff, reduces its density and strength, the ability to stretch and bounce back.  This process is known as glycation which involves molecules known as advanced  glycation end products (A.G.Es) and it accelerates with lifestyle and age. It is a form of oxidative damage. As the result of this process, on the skin surface we can observe deep and dehydration lines, change in colour from pink healthy glow to greyish tone. The loss of radiance and elasticity are becoming more noticeable, and in many cases break-outs may develop.
The uniqueness of this new A.G.E Interrupter Advanced powerful formula lies within its active ingredients and their potency level.  Multiple clinical trials showed  much higher biomarkers of the performance of this product in comparison with its predecessor.
Glycyrrhetinic acid, the new ingredient has soothing properties, ability to visibly reduce pigmentation, soothes and repairs irritated epidermis, works as an antioxidant.
Proxylane concentrate, the ingredient that works in the dermis. It helps repair and rearrange collagen in this layer. It restructures the skin layer by layer by stimulating the growth of protein in skin cells so helps get rid of wrinkles and sagging skin.
Niacinamide, a water-soluble vitamin B3. Minimises enlarged skin pores caused by weakness in collagen structure, increases hydration level in the skin so those irritating dehydration lines varnish in no time. I personally recommend Vitamin B3 as an oral supplement.
In order to intensify the effect of this treatment you can comfortably add antioxidants such as CE Ferulic, Serum 10, Phloretin CF and Retinol 0.3. Any of these products you will need to apply under the A.E.G Interrupter Advanced onto the entire face, neck and chest. Use a Skinceuticals sunscreen during the day and do not forget that Retinol is a night treatment only.

Holding Back Time at Leonilla.com